PRESS RELEASE Crolles, September 12, 2023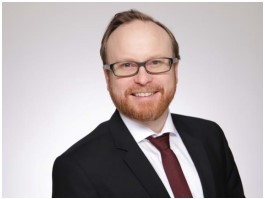 Julien Dallery appointed Managing Director of Convergence Participation, majority shareholder of embedded electronics providers IP Systèmes and ECRIN Systems.
On September 4, 2023, Julien Dallery was appointed Managing Director of Convergence Participation. His mission is to enable the group to achieve consistent and sustainable growth.
Managing Director, Julien will oversee the continued growth of Convergence Participation. Gérard Dallery, Julien's  father  will  remain  as  Chairman  and  CEO  of Convergence Participation until the end of 2023.
With  20  years'  experience  in  international  business  development  and  industrial  solutions, Julien is ideally suited to drive the continued growth of the Convergence group, which is made up of IP Systèmes, based in Lyon, and Ecrin Systems, based in Grenoble, and strengthen its position  as  the  leading  provider  of  industrial  and  embedded  IT,  automation  and  industrial communication solutions.
Julien,  47,  has  a  proven  track  record  with  a  variety  of  companies  in  industrial  design  and manufacturing. He began his career in Germany in strategic planning and subsequently had a number of roles in sales development, marketing and strategy with a leading global group in the  tech  sector,  before  working  in  executive  and  managerial  positions  at  international medium-sized companies for the past 10 years.
Having been based in Germany and Japan, Julien has an international outlook, is enthusiastic and collaborative, and has managed teams of up to several hundred employees worldwide in countries such as China, India, Turkey, the UAE and the US.